iPads are becoming increasingly present in educational facilities everywhere. Their vast array of benefits like increased collaboration and the ability to bring learning outside of the classroom are hard to ignore. Our world is becoming progressively mobile, so it only makes sense for education to follow the same trend. The use of iPads in the classroom are perfect for the job, it's like they were made for education.
Bringing mobile devices like iPads in the classroom to use as learning tools may sound scary to many, but it is the inevitable future of education. To ease your fears, below are some examples of schools that have implemented iPads in education:
1) Longfield Academy
in Kent, UK consists of 11-18 year old students. Their goal is to try to give students as much responsibility and control of their learning as possible. After trying various laptops, netbooks, and tablets, they decided the iPad was the clear winner for their 1-to-1 program. Longfield is one of the first schools in Europe to offer iPad to all its students and teachers. Check out what they are saying about their experience:
-"We were frustrated because we had a vision of what we wanted, but there didn't seem to be a good solution," says Neil Willis, Principal, Longfield Academy.
-"iPad takes our learning vision forward. It gives students the freedom to learn in the restaurant, on the bus home, and in their bedrooms as well as in the classroom. Students are more confident and mature learners," says Alex O'Donnell, Vice Principal, Longfield Academy.
- " iPad gives them much more fun in gathering the information they need, and a much greater variety of ways to express themselves. I see the difference every day," says Emma Beamish, Engligh Teacher, Longfield Academy.
2) At Northdale Middle School
In Coon Rapids, MN, iPads in the classroom have led to increased engagement among disabled students and have accelerated and improved their learning and comprehension. According to the school's speech language pathologist, Kathryn McLachlan, some parents are seeing their children's success in class, so they have bought iPads for home use. Here's what they have to say: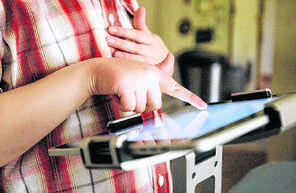 -"The technology has had a lot to do with their engagement and their learning, " says Mary Fleegal, Teacher, Northdale Middle School.
-"We feel like we've gotten our money's worth," says Kathryn McLachlan, Speech Language Pathologist, Northdale Middle School.
3) Post-Secondary
To prepare their students for post-secondary education and transform their school into a 21st century learning environment, Mason County High School in Kentucky decided to make technology readily available to each student with the iPad. All the students at Mason County High School have access to the iPads in the classroom and for some at home as well. The new iPad program is a part of the district's four-year technology plan. Here's what they say about the iPad program:
- "We're trying to teach our student how to think," says Steve Appelman, Principal, Mason County High School.
- "Having the technology levels the playing field for all students, particularly those who may not have access to a computer at home," says Kermit Belcher, Technology Director, Mason County High School.
The use of mobile devices in the classroom is ever present and the future of education. If your school is considering implementing a 1-to-1 or BYOD program to bring these fabulous gadgets into the classroom, you may contact us here with any questions or for a free consultation. We have helped schools all over the country and are always happy to help! Good luck!